The workplace environment is changing in America. Innovative technology, the Millennial mindset, and evolving expectations are driving a new culture with more individualization and increased freedoms. Top P&C insurance producers often find themselves in firms that do not provide these opportunities for their producers, thus restricting freedoms and the opportunity to achieve personal and professional goals.
Gertrude Ezorsky shares some thoughts on what freedom is in her book "Freedom in the Workplace?" Ezorsky references Gerald C. McCallum Jr.'s definition of the term "freedom," which suggests "a person is free to do something (or not) when there are no obstacles, such as constraints, restrictions, or interfering conditions, which prevent her from doing something (or not)."
Therefore, a free workplace requires management to limit or remove all obstacles that can restrict you from performing your job in the best way you know how. Some of the modern factors available for management to eliminate those restrictions include:
Innovative Technology
Advances in technology enable employees to work anywhere in the world without much disruption to communication and data. Secure VPN technology enables employees to securely access data remotely, and video conferencing allows users worldwide to join the same meeting and share the same screen. Technology also exists to monitor telecommuting employees' work hours if this ever becomes a concern.
The Millennial Mindset
Millennials have brought new concepts to the work environment, such as the elimination of traditional work schedules, an increased focus on purpose and social awareness, and the need for continued development in the workplace. Donna Wells, CEO of Mindflash, says, "Providing [millennials] with the freedom to manage much of their own work and to determine when and where they do that work is fundamental to their satisfaction." It's also becoming fundamental to the success of business.
Evolving Expectations
As discussed in our previous blog "What Work-Life Balance Means to Your Health and Success," maintaining an appropriate work-life balance is imperative to both your health and your success. People who do not prioritize this balance can suffer from early burnouts and exhaustion, poor health, difficulty concentrating, and struggling personal relationships. The increased awareness of this need and desire for a more balanced lifestyle is altering company expectations as well as changing employee requirements.
How to Achieve Vocational Freedom
Achieving the vocational freedom you want and deserve may not be possible in your current agency. If you feel constrained by your work environment and discussing your concerns with management doesn't seem to make any positive progress, consider looking for a position at an entrepreneurial or lifestyle agency. Entrepreneurial agencies offer increased schedule flexibility, higher commission rates, stock options, and no noncompetes compared to traditional insurance agency models.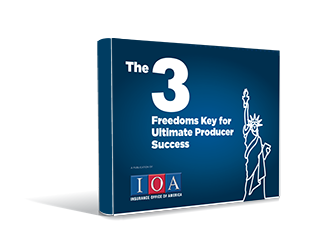 As you explore what you need to be happy and succeed in your career, download our free eBook, "3 Freedoms Key for Ultimate Producer Success." We walk you through the top areas where freedom is imperative and discuss the factors that can keep you from accomplishing your goals.