The combination of a changing consumer landscape and advances in technology is driving an evolution in the P&C insurance industry. In response to improved technologies and altered customer expectations, insurance producers and agencies need to adjust their philosophies and improve their digital presence. Here are some of the major trends impacting the P&C insurance industry in 2017 and beyond:
Young, Tech-Savvy Customers
Constant interaction with technology and social media is increases the customer appetite for a personalized experience and better customer service. Access to policies and producers from a mobile device is a growing desire and expectation for consumers. If insurance agencies and producers want to thrive, they also need to be tech savvy and easily accessible.
Increased Demand for Digital Claims
A growing population results in more drivers, increased claims, and a demand for more hands-free claims technology. An Accenture survey found that 71 percent of participants would prefer their insurance claims be submitted automatically by their connected home or vehicle. As more and more people grow accustomed to the use of technology incorporated into their everyday life, the demand for digital claims will continue to increase.
Online Purchasing
Interestingly, an increase in online purchasing has resulted in more traffic on the roads and an increase in claims. The U.S. Department of Transportation predicts a 40 percent increase in the amount of freight transported throughout the country in the next 30 years, as well as an increased value of shipments by 92 percent. Additional delivery trucks equate to increased traffic congestion, increasing the potential risks for all drivers and pedestrians on the road.
Newer Cars with Better Technology
Cars with technology based on the internet of things, as well as more and more new vehicles on the road, causes the cost of claims to increase drastically. According to CCC Information Services, the cost of repairs in 2016 were up 3.8 percent compared to 2015. However, improvements in crash-avoidance technology could reduce claims by 7 percent in the next ten years. Producers need to be aware of impending changes in the market to assist their customers and better understand a clients' risks.
Is Your Agency Preparing You for Change?
For top producers to deliver on sales and renewals, they need to be equipped for success and treated like an asset by their agency. If your agency doesn't provide stock options, equity interest in your book of business, comparable compensation for both new and renewing clients, schedule flexibility, and the tools needed for success, you may need to consider another option. Entrepreneurial agencies provide producers all of the above.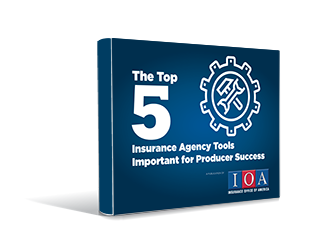 With all the changes in the market impacting how insurers work with clients, is your agency providing you the tools to offer the best customer experience possible? Download our complimentary eBook "The Top 5 Insurance Agency Tools Important for Producer Success," to learn what top producers like yourself need to succeed in this competitive environment. Also, discover how an entrepreneurial or lifestyle agency can help you thrive in your career.