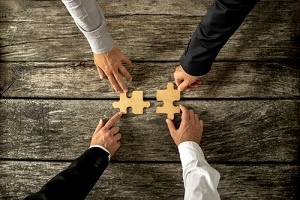 If you are not an agency owner or you don't have equity interest in the business, you may be hung out to dry if your agency decides to sell. Considering that private equity deals made up 54 percent of the year's activity, according to the "2015 Agency/Broker Merger & Acquisition Statistic" report from Optis Partners, your agency going through a buy-out is not improbable.
After a buy-out occurs, the purchasing agency will want to begin receiving a return on their investment as quickly as possible. This could mean an increased demand for revenue growth, decreased commissions, a consolidation of resources, and more. All of which would impact top producers as they will be under additional pressure to perform with less support and still no ownership or equity interest in the business.
The Impact on Your Clients
Not only is an agency buyout intimidating for you, but your clients become fearful of the transition as well. They wonder how it will impact their business, whether they will be provided the same service, or even if they will receive the same coverage. If an agency doesn't work to keep clients receiving good communications and consistent coverage, it may lose much of its renewal business.
Keith Wilcoxson, executive vice president of mergers at Gallagher Benefits Services Inc. said, "From our point of view, the relationship between the individual producers and the client cannot change. Whoever is servicing that client account and however they were providing that service, that has to stay the same."
A few additional tips to maintain a positive client-producer relationship after an agency buyout include:
Communicating regularly with clients
Maintaining current operations
Sharing changes to compensation or fee structures
Sharing the benefits of the buyout, such as expanded services and reduced expenses
Is There a Better Option?
If your current agency model doesn't seem to fit your needs due to the fear of a buyout, lack of ownership opportunities, and limited equity interest options, you may need to consider moving to an entrepreneurial compensation model. Entrepreneurial or lifestyle agencies traditionally offer higher commissions, ownership opportunities, equity interest in the business, and don't require noncompetes.
Download our eBook "5 Key Trends That May Rock the Insurance Producer's Financial Future," if you are interested in learning more about industry trends that may impact your agency.